If you see a bubbly young lady carrying mountains of boxes or cruising around State Fair Park in an official Gator, it's likely Jojo Roberson.
Growing up as the daughter of trainers and judges, Jojo has spent her life around horse shows. It's no surprise then that she feels right at home as part of the Show Staff for the 2021 6666 NRHA Derby presented by Markel.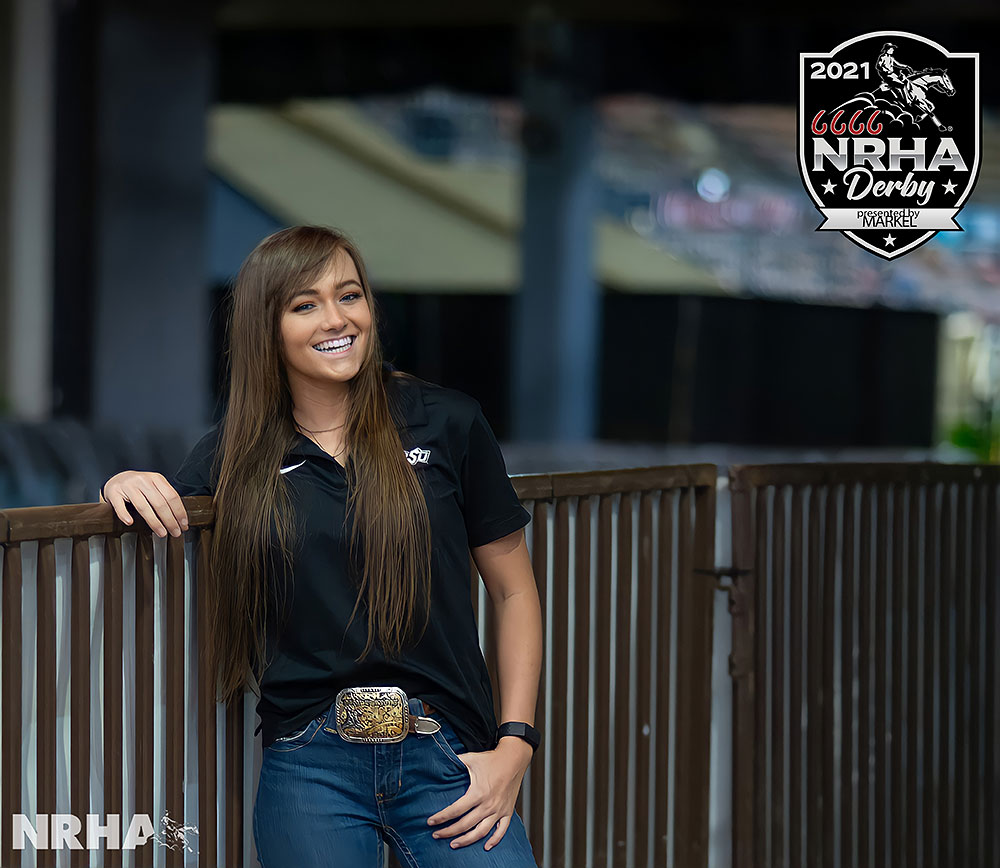 The 20-year-old, who is preparing for her junior year at Oklahoma State University in Stillwater, Okla., is assistant to assistant show manager, Loren Morris. "I am assisting the show staff in any way necessary," Jojo said with a laugh. "I really enjoy being here and getting to see lots of people I know, as well as meeting new people. It's pretty fun."
A former member of the NRHyA, Roberson grew up showing all-around and reining. "I did all-around when I was really young in the small fry and 13 & Under, and then I focused on reining for a while on my horse Traditional Fudge (Steady Tradition x Red Hot Fudge)," she recalled.
Then Roberson started to work with Greedy Ghost, a now 7-year-old gelding by NRHA Six Million Dollar Sire Smart Spook and out of Miss Rawhide Tami. The pair excelled together. "I started doing ranch riding with him and then turned him into a showmanship and horsemanship horse," she said.
Together the two won the showmanship class at the All-American Quarter Horse Congress, and also took top honors in the Level 2 at the AQHyA World Show. They also won a national ranch riding year-end title. They returned to the Jim Norick Coliseum in the summer of 2020 to win their first world championship in showmanship.
"Winning the showmanship with him was one of the biggest accomplishments of my life, because it was so discouraged to have a reining-bred horse in the showmanship. That really drove me to do well with him," she shared.
When it came time to choose a college, Oklahoma State wasn't on the short list. That changed when she visited the Stillwater, Oklahoma, campus. "I didn't really know where I wanted to go until I visited there, and then I just knew it was the place I wanted to be. It's a very friendly town and is very focused on the college," she shared.
Jojo is a member of OSU's equestrian team. Unfortunately, her freshman year of competition was cut short due to the COVID-19 pandemic, making the 2021 season even sweeter. "We didn't get to complete our season my freshman year, so when we got to go to the Big 12 competition, we were all really motivated and excited to be there," she shared.
Oklahoma State took home the Big 12 title, then traveled to nationals where they made the semi-finals before getting beat out by Georgia, which won the national title.
Jojo is spending the summer at home in Byars, Oklahoma, with her parents J.D. and Stacey Roberson. "They train for every event under the sun. If you go to an AQHA show, my mom is showing in every event, and my dad does all-around but focuses on reiners more. They are also both judges, so you'll always see them at shows."