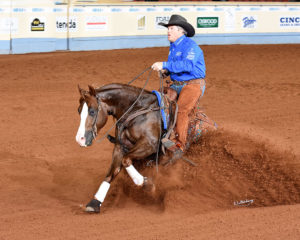 When Casey Deary and Ten Thirty topped the first round of the 2021 National Reining Horse Association Futurity Open, few people would be more exciting than Brooke Wharton.
That's because Wharton, of Fort Worth, Texas, bred and raised the colt before selling him in the 2019 NRHA Markel Futurity Sales, and while she may not own him anymore, she's always going to be a fan.
"I was very excited but also very nervous. I kind of didn't believe that it was happening," she recalled of the near-flawless run. "When they called out the score, it was just like, this isn't real. This isn't happening. It's still sinking in, and I don't even have words for how excited I am."
Ten Thirty, by NRHA Five Million Dollar Sire Gunnatrashya out of Dainty Little Step, is a product of Wharton's fledgling breeding program.
Wharton's connection began years ago when Wharton was growing up on her family's historic Waggoner Ranch in west Texas. NRHA Professional Doug Milholland was the ranch's head trainer, and although Wharton rode with him quite a bit, she didn't spend much time in the show pen.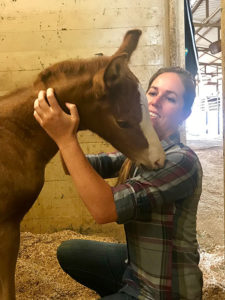 Then, in 2013, Wharton was home for the summer, and things began to change. "We had a reining horse who had just aged out of the derbies and had won $49,000 with Ben Baldus. Ben told me I needed to show, and so I came to Oklahoma City to show in the ancillary classes at the NRHA Derby," Wharton recalled. "On the drive up here, Ben asked my goal for the show. My lucky number has always been 73, so I said I'd love to mark that."
Baldus laughed and said he'd be happy if she marked a nice, clean 70.
He had to eat his words when Wharton marked a 72.5 on the first day of competition and a 73 the next day, and the earnings from those two classes pushed the mare's lifetime earnings over $50,000.
That mare's name? Dainty Little Step, dam of Ten Thirty.
"Ever since that one show experience, I have loved reining. I started showing a little bit, but not as consistently as I'd like to. I'll get back to showing more at some point, but for now, I am just kind of building my breeding program," she said.
When Wharton's family sold their ranch in 2016, she purchased a few mares, including Dainty Little Step. She recently purchased half ownership of Lonely At The Top. "I've kind of fiddled around with the breeding program and I've consolidated it down. I'm selling a full sister to (NRHA Four Million Dollar Sire) Gunners Special Nite in the Sales this year so I can focus on her (Lonely At The Top) and Dainty Little Step," she explained. "I'm trying my hardest to breed Level 4 Open horses. I want to focus on the mares because I think that is what really separates you as a breeder."
This year Wharton has four horses in the NRHA Markel Futurity Sales, including Best Flinns Forever, a yearling filly by In Like Flinn out of Dainty Little Step.
Wharton's passion for the reining industry extends in several directions. She serves on the Board of Directors for the Reining Horse Foundation and is also a member of both the Non Pro and Aged Event Committees.
"I've always felt like I needed to give back and be involved. I got a call from Nancy Tague last year asking if I would be interested in serving on the Reining Horse Foundation Board. I think it's important that everyone gives back and supports each other, so I try to be involved in that however I can be," she said. "I hope that what I do helps makes the RHF and NRHA stronger and better."
Browse reining groups on social media, and you'll probably see where Wharton's other talents lie. She's a numbers girl and enjoys compiling data for major events. "I spent a year in the racehorse industry, and while there, one of the things I realized that they have a plethora of that we don't is data. They have a way of slicing up every different thing you could think of about how to rank and evaluate horses," she explained.
With that in mind, Wharton began evaluating reining horse data in 2019, trying to figure out how to bring that level of statistics to the reining industry. "I started with reining because it's my passion, plus it's the easiest to find the data for. I started doing it for myself, and then thought that if I was interested in it, other people would be, too," she said.
One set of data Wharton looks forward to evaluating? "I don't know if it will pan out yet, because I have to see who the finalists are, but someone asked me a question if having a high score in the pre-futurities would be a better predictor than having a high average composite," she said. "It may not tell me anything, but when we get to the finals I want to go back and look."