Anna Woolsey, an NRHA Non Pro from Skiatook, Oklahoma, can't recall a life without horses. She showed her first horse in a halter class at just three years old. When she turned seven, she began showing reining horses, and has ever since, dabbling in numerous events and disciplines including ranch riding, showmanship, horsemanship, and equitation.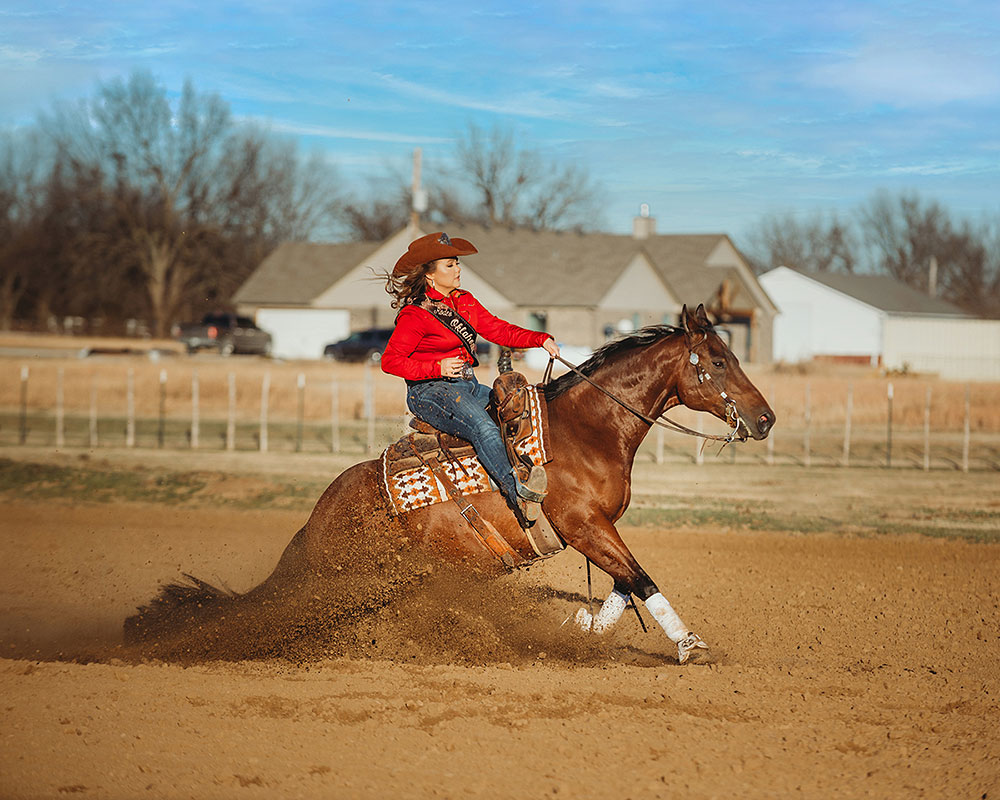 "When I was growing up my dad (Chris Woolsey) worked for Jackie Krshka, who is a Hall of Fame horsewoman, so I was always surrounded by people who truly understood how they think. I know it shaped me into who I am when it comes to horses," she explained.
With her background, training, talent, and dedication, she did well in the show pen. She qualified for the American Quarter Horse Association Youth World Show every year she was eligible from the time she was 12 years old, and in 2018 she was a World Show finalist and finished sixth in the Nation for Youth Ranch Riding. She was sixth in the AQHA World Show L3 Amateur Reining in 2021. She also has titles from the American Buckskin Registry Association and the Color Breed Congress. 
While beginning her college career at Northeastern Oklahoma A&M, she competed on the equestrian team, finishing with the reserve National Championship in Reining.
But there's another side to Anna, and it might be a surprise. The talented equestrian currently reigns as Miss Rodeo Oklahoma.
"I grew up with a wide variety of horses to ride, and I loved them all. Even though I didn't grow up in a rodeo family, I have always had an appreciation for it and a love for the horse industry as a whole," she said. "As a rodeo queen, you spend so much of your time on the back of a horse, so being a true horsewoman is a major advantage."
The 22-year-old began competing in rodeo queen competitions at just 13 years old, when a desire for a barrel saddle of her own compelled her to enter for the first time. "My mom said I could win won if I entered a queen competition, so that's what I did," she shared.
Anna's first title was followed by several others. In 2015 she was crowned the Newkirk Range Riders Teen Queen, the ACRA Queen in 2016, and in 2017 took the title of Miss Rodeo Oklahoma Teen. She took a two-year sabbatical from the pageants before being named the 2019 Pawhuska International Calvacade Queen. In 2020, she won the crown for Broken Arrow's Rooster Day Rodeo, and that was the title she took to the Miss Rodeo Oklahoma Pageant in Woodward, Okla., in 2021.
Anna's coronation will be held January 29, 2022. While most of the proceeds from the event will go to help Anna with her travel expenses as she represents Oklahoma at professional rodeos around the globe, a portion will also go to a cause near to her heart – animal rescue.
"I love animals and have fostered dogs since I was 17 years old for Skiatook Paws & Claws. I can get on my soapbox about getting your animals fixed; it's something I am incredibly passionate about," she shared.
Once her Coronation is completed, Anna will begin an arduous year of appearances, which will culminate at the 2022 Wrangler National Finals Rodeo presented by Teton Ridge. There, she'll compete for the title of Miss Rodeo America. "I hate to miss the Affiliate Championships at the Futurity, but I want to serve as Miss Rodeo America, so I'll show up in Vegas with all my ducks in a row," she said.
Once she's put the queen life behind her, Anna will return to college at Oklahoma State University where she is pursuing a degree in Interior Design. Her long-range goal is to own a design firm and, eventually, her own show on HGTV.