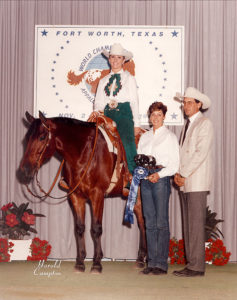 There is no better time to try something new than now. Having already shown Western Pleasure and fueled planes in Iraq, Jewels Farmer decided to jump in headfirst and start reining.

Born in Southern California, Farmer got her first horse when she was 12 and began barrel racing. When she turned 17, she began riding English and Western Pleasure.
After competing in a few open shows Jewels decided to really go for it in the pleasure world. She found a good trainer and purchased a competitive horse, took lessons for three months, then went on to win an Appaloosa World Championship in 1990. The next four years were just as successful, and she won champion and reserve each year in Halter, Western Pleasure, and Horsemanship. Her equine career began to evolve even more, and she began to raise, show, and sell futurity pleasure horses.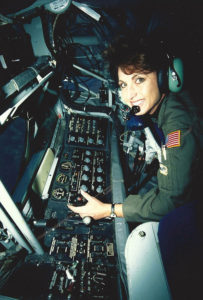 She then enlisted in the Air Force where she served for 26 years as a Boom Operator where she laid in the back of the plane and refueled in the air. She began with the Stealth Bombers that dropped into Iraq, then converted to the predator, which were the unmanned airplanes that flew missions over Iraq and Afghanistan where she operated the camera and guided the weapons. The Air Force is also where she met her husband, Don Farmer, who was a pilot. After Farmer retired from the military in 2014, she became a realtor, and she now focuses on horse properties.

After years of riding pleasure horses, Farmer tired of doing the same thing and was ready to try something new. "I turned 60 and decided I needed to go for something else," Farmer said.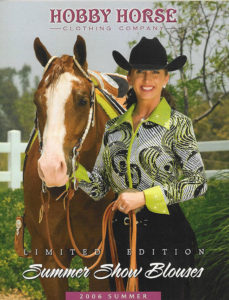 It was the rising popularity of the sport that brought her to reining. "It's still growing and there are so many good purses and sponsors. In the pleasure world, there weren't as many shows or sponsors. I was actually looking at trying ranch riding. I went to a ranch riding class and decided I might need a little more excitement – I wanted to go a little faster," she explained.
The search for a reining horse began and after no success, Farmer opted to hand her trainer, Gary Roberts, the reins. "I decided I better get with my trainer to figure out what he wants me to buy so that he likes the horse too," Farmer said.
It didn't take long to find the perfect horse. "Gary sent me a video and said, 'This is your new horse, and he is going to be a great horse for you to learn on and to show because you will be very competitive with him,'" Farmer recalled. That horse was Easys Lil Shiner (Shiners Voodoo Dr x Easys Lil Barbie) a 4-year-old who she nicknamed Squeak. Farmer plans to start showing him at the start of the new year.