Horsing Around with Alexis Mann
A small town in the lower peninsula of Michigan, Gladwin, is the birthplace of Alexis Mann, a college freshman with boundless ambition and the thirst to achieve her dreams.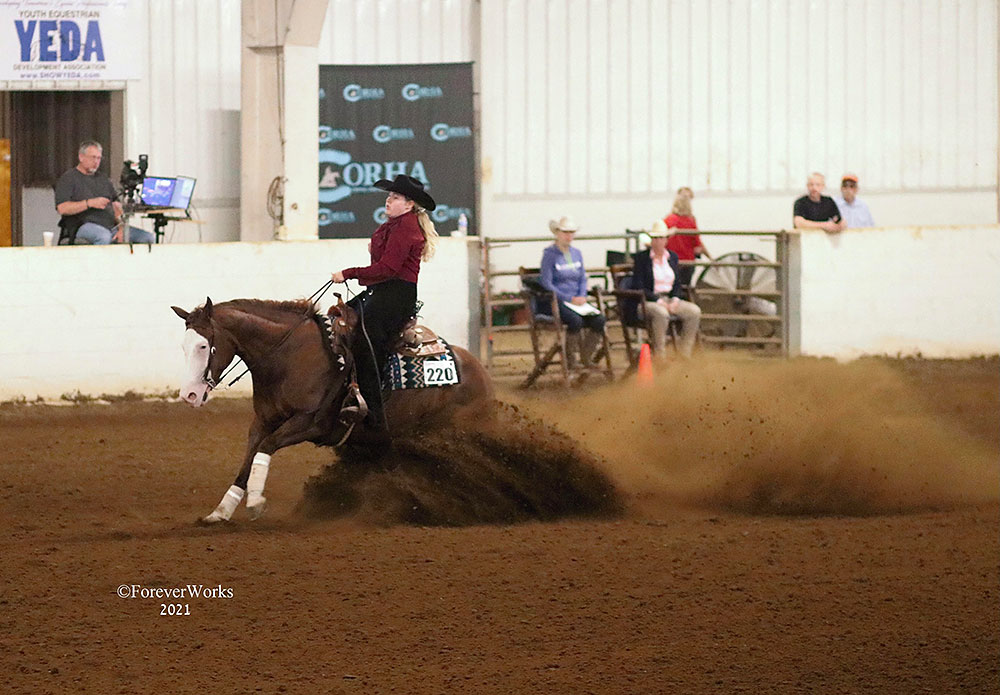 The love of horses came naturally to Alexis as they have been a part of her life for as long as she can remember. Her father had owned horses in the past and had wanted the same for his daughter. Her mother, on the other hand, had never been around them until she got married, and she has loved to trail ride and watch Alexis show ever since. Alexis's father owning an automotive body shop enabled him to spend more time at home with the family than the standard nine to five job.
At the early age of six, Alexis began showing in local 4-H shows. When she was 12, she was introduced to reining and has been hooked ever since. Riding and showing have always come naturally to Alexis, but not without challenges.
When Alexis's mom was 10 weeks pregnant, the ultrasounds all showed a healthy baby. That changed at 20 weeks when it showed Amniotic Band Syndrome, also known as constriction ring syndrome. This happens when fibrous bands of the amniotic sac (the lining inside the uterus that contains a fetus) get tangled around a developing fetus. In Alexis's case, the fibrous bands had wrapped around her right hand, and when she was born, it was gone.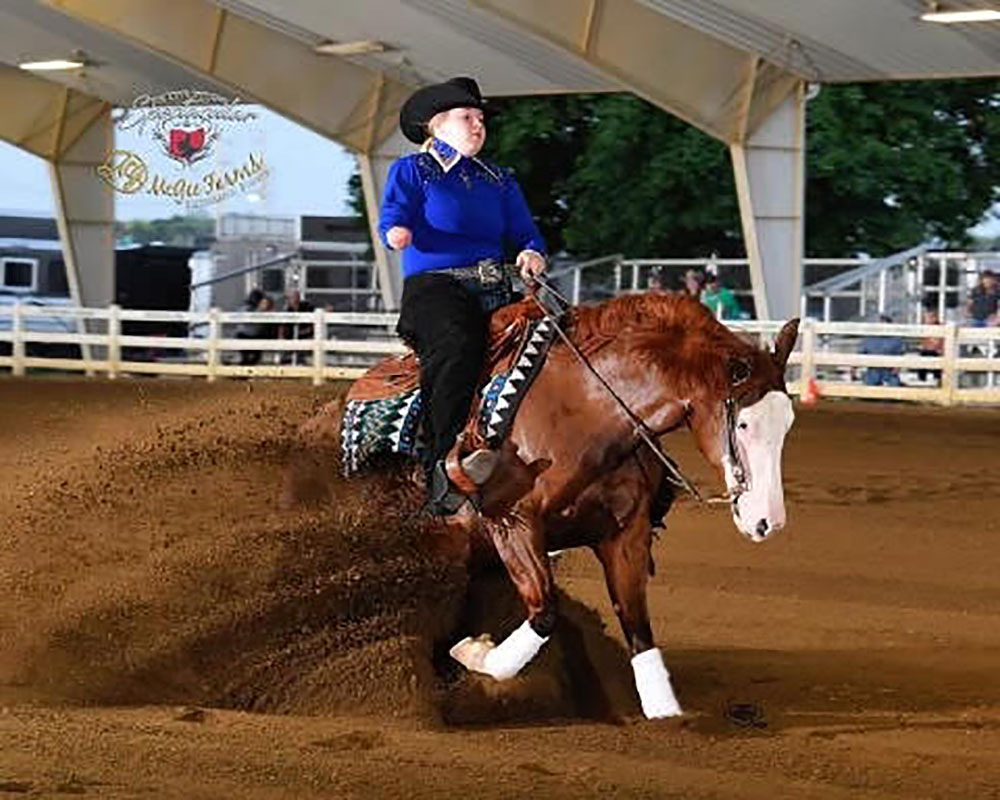 Growing up, Alexis's parents instilled an optimism that, regardless of her circumstances, she could accomplish anything she put her mind to. "It's something that I've had to struggle with and had to overcome a lot of challenges, but it's what formed me into the person I am today. I truly don't think I would be as accomplished as I am today without it," Alexis said.
With the family motto being "It is never something to stop you, its only something to grow from," Alexis remembers her father wanted her to learn to tie her shoes when she was six. After watching YouTube tutorials, Alexis was hesitant and didn't believe she could. Her father gave her the ultimatum, "If you don't learn how to tie your shoes by next week, you won't go to your horse lesson."
Alexis chuckled, "I learned how to tie my shoes in three days."
The trainer that Alexis rode with had a large array of lesson horses, and some happened to be reiners. "He let me sit on a reiner once, and I was like, this is it. This is what I want to do," she emphasized. "If he would have told me everything I could do with reining, I would have told him he was crazy, just because I never imagined myself to be able to have the opportunities I have had."
They acquired her first reiner then after a couple of years, they bought another. "I purchased a palomino out of Wimpys Little Step, and he challenged me in a lot of ways, but he got me going in reining and got my foot in the door," Alexis explained.
Opportunities kept coming as she rode with NRHA Six Million Dollar Rider Shawn Flarida for a year and a half. "He even let me show one of his horses that summer and I won a lot with him, so that was a great experience," she said.
Alexis is now a freshman at the University of Findlay where she is enrolled in the western equestrian program, pursuing a major in marketing. In her spare time, she hosts a successful podcast called "Horsing Around".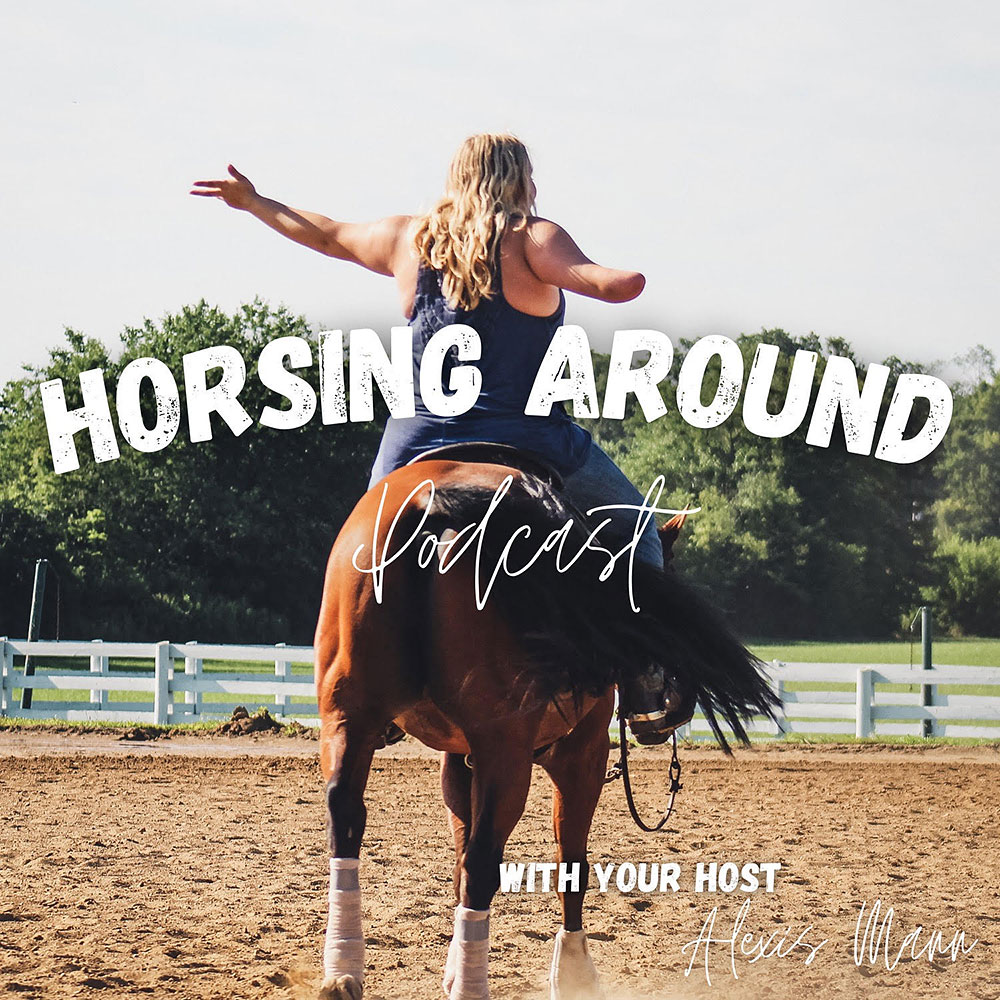 It all began with an Instagram page. "I'd just write down inspirational quotes. I have always loved writing and it has helped me when things weren't going great with horses or in life in general," she explained.
In the beginning stages of the podcast, Alexis recorded episodes focusing on helping others going through hard times. Those episodes did okay, then, she found new inspiration. "I love Andrea Fappani's podcast 'Along for the Ride' and 'Cowhorse Full Contact,'" she said. "I thought, they were really cool as they're interviewing the big names in the industry. But what if I talked more to the Non Pros and people that they see on Instagram that they relate to. The whole goal is to inspire others."
Interviewing a wide variety of individuals within the industry including non pros, business owners, and photographers, Alexis is thankful for the opportunities that the podcast has offered her. "Being able to interview all of these amazing people within the first year of the podcast has been incredible," she explained. "I get to interview them for an hour or so, plus, I've created a better contact with all of them, and I am very grateful for that."