From Crippling Fear to Rookie of the Year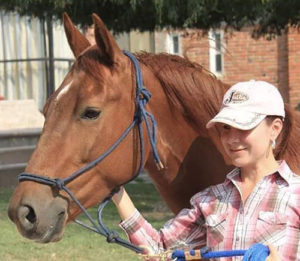 Karla Ruiz is a reiner who wasn't born in the horse world. In fact, for many years, she could only dream of life in the country. Her start came in the beautiful Queretaro City in central Mexico. She yearned for wide-open spaces and fresh air, and loved animals of all kinds; however, it would be some time before she could live her dream in the country.
For the time being, Ruiz's interest centered on music. "I loved to sing and used to play the guitar at Church and in school groups," she said.
Like many young dreamers, Ruiz realized that making a career of her beloved hobby was unlikely, so she enrolled at Texas A&M University in Corpus Christi and earned a degree in Business Administration with a minor in International Business. Upon returning to Mexico, Ruiz secured a position managing exports with Mabe, an appliance division of GE, which she held for several years making friends and business contacts worldwide.
One acquaintance she made during that era of her life was José Soto, a young lawyer whose family also lived in Queretaro City, while his father owned a farm in the small town of Amealco. Young Soto visited his father's farm as often as he could. "He always loved horses," Ruiz shared. "He was a charro in his youth and enjoys all things rodeo."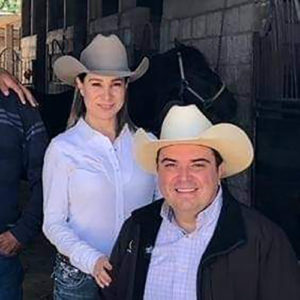 Soto and Ruiz married a couple of years after they met, and the couple decided to make their wedding special by using horses in the ceremony. "That was my first encounter with a horse!" Ruiz admitted.
Soto is a partner of CCN Attorneys at Law, a firm that supports American companies doing business in Mexico. The international aspect of his business intrigued Ruiz and the determined woman left Mabe to study law; however, she didn't stop there. Ruiz is also pursuing a post-graduate degree in social reconstruction due to her and Soto's concerns about the social disintegration in Mexico.
Some years after her first encounter with a horse at her wedding, Ruiz and Soto purchased a riding horse to just have fun on. As they searched for a job for the horse, they happened upon a ranch where reining was practiced. Intrigued by the skill and finesse of the sport, they bought a couple of reining-bred mares for the trainer to show for them.
After a while, it became apparent that the trainer didn't want to show the mares, and Ruiz began to question the expense of keeping them there. Always eager to try something new, she decided that she could also learn how to show their mares. "It was a nightmare for me," she admitted. "I was really scared of the horses. I couldn't complete a circle or a side pass, never mind a sliding stop. I just froze when I was on a horse."
Ruiz was struck by watching others ride their reiners so effortlessly and felt like there must be something wrong if she was having so much trouble. Filled with a renewed desire to prove herself, she buckled down. She moved her horses to trainer Juan Beltrán and saw an immediate difference in them. With a newborn fervor, she applied herself wholly to improving her own skills in the saddle. "I was really committed to succeed," she said. "I trained so hard. I just put away my fears and one day, I could do the impossible!"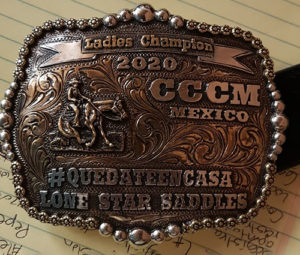 Ruiz chalked up her new success to the teamwork she shared with her trainer and husband. "Today, reining makes me feel so alive! When I am on a horse, ready for competition, I feel life in my veins. It still scares me, but nothing compares to the feeling of accomplishing your goals."
In 2019, Ruiz, once filled with a crippling fear of horses, was named Rookie of the Year in Mexico and qualified for the North American Affiliate Championships in Oklahoma City.
The following year, 2020, sang a different tune for Ruiz just as it did for people worldwide. The onslaught of the COVID-19 pandemic had its effect on Ruiz and Soto's favorite past times. "There are two things that José and I really enjoy: horses and traveling. When the pandemic kept us from traveling, the horses got our full attention. We began to think about having our own place someday."
As soon as travel began to open up near the end of the year, they flew to Scottsdale, Ariz., to visit some prominent reining ranches to get an idea of how they would set up their own facility. "We visited Ruckman Ranch, Rancho Oso Rio, and Schmersal Ranch, too. We wanted our ranch to really focus on reining and each of these ranch owners gave us very good advice. We felt really welcomed and have tried to put into practice all of their comments," she said.
Construction on the property that would become Rancho San José Quarter Horses began in March 2021 and is almost finished at the time of this writing. It is located in Pedro Escobedo, Querétaro, and features a covered arena, an outdoor arena, and 40 stalls.
"Our inauguration event, the San José Reining Cup, will be held May 20-22, 2023," Ruiz shared. "It will be an affiliate event and also a derby. We are expecting horses and competitors from all over the country. The whole Mexican reining community is very excited. We really want the sport to grow here and have received many sponsorships from Mexican companies and reining ranches. The NRHA, committed to growing reining abroad, has supported us too."
For the ranch and its event, Ruiz and Soto hope to grow it to one of the top reining events in Mexico, and they want the ranch to be recognized for its focus on reining.
Ruiz's personal goals are to keep improving her abilities horseback and grow as a competitor. "When José was younger, he really wanted to be a country man, but then life guided him to law school. While being a lawyer could be very tiresome and stressful, it has been the highway to accomplishing our dreams. Everything in life has a purpose, and here we are, building our reining future," she said.