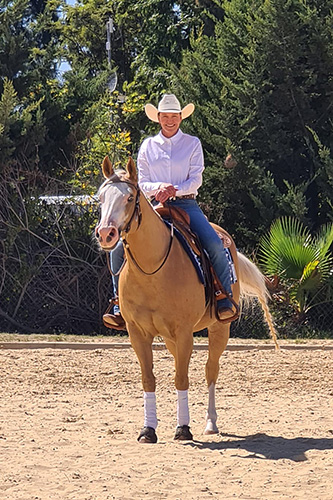 The country on the southernmost tip of the African continent, South Africa, is known for big game, beaches, lush vineyards, cliffs, mountains, and more.
The varied country is also home to a growing group of reining enthusiasts, and the excitement of the sport is bringing in transplants from other equine disciplines.
Rena Bosch, of Cape Town, South Africa, is one of those riders who made the switch. She's traded in her breeches and helmet for chaps and cowboy boots and has no plans to return to the flat saddle of dressage.
"I went to a reining show and was just blown away by the athleticism of the horses and the support of everyone who was there watching and cheering," she recalled. "I had already fallen in love with the quarter horses, and I couldn't wait to get back and start training."
Bosch began riding around five years old, honing her skills at a riding school where she did jumping, gymkhanas, and pony camps. "Horses just stayed in my blood, and I was so passionate about them. I began doing a bit of dressage, and I wanted so badly to compete. My father told me I could buy my own horse when I was working one day, and that's just what I did," she shared.
She purchased two dressage horses and began to compete. "I loved the dressage it was great, but after 15 years I felt the need to start looking for something else and was fortunate enough to have had exposure to the amazing temperament of Quarter Horses and the sport of reining. Soon afterward I decided to retire my dressage mare, as I had fallen in love with the Quarter horses and the exciting challenge of reining."
It was during that time that she and her husband, Gordon, purchased a farm. Soon Gordon shared that he wanted to learn to ride.
"I got such a fright, and I thought, 'Oh my goodness! He's a green rider. What kind of horse am I going to get him that he's not going to break all of his bones and have the horse bolt with him?'" she remembered with a laugh. "Our next-door neighbor breeds and imports Hanoverians, and she told me there is only one horse I needed to get, and that was an American Quarter Horse."
The hunt was on, and my neighbor recommended Laurie Ferrand owner at Sundancer Stud, located up the coast in the heart of the Natal Midlands. The farm is home to CT Gunner, by NRHA $13 Million Sire Gunner out of DC Leigh. "We went there and found the most incredible quarter horse for my husband, and we would go up and visit him on a monthly basis because we weren't ready to bring him down. I just fell in love with those horses and their temperament," Bosch shared.
At the first reining event she went to, Bosch quickly saw that reining was definitely a group event. "I had always ridden English, but in those events, people don't cheer and whistle for you. There was such camaraderie amongst everyone around that I just really appreciated," she said.
It wasn't long until she needed a quarter horse of her own – so she purchased two.
Bosch's main mount is Sundancer's Gunner Get Cash, by CT Gunner. "She's a palomino with blue eyes, and is absolutely striking," she said. "So that's my first reining horse, and then I have another younger one, Sundancer's Gunner Boost Ya, both whom are in training."
While she says there are some similarities between reining and dressage, such as asking the horse to work from behind, self-carriage and engaging the core, there is a lot to learn when switching between the two disciplines. "Reining is not as easy as it looks when you're standing on the side and watching Andrea Fappani or Casey Deary," she said. "It's a challenge, a constant challenge, but I'm loving every minute of it."
NRHA Hall of Famer Doug Milholland recently traveled to South Africa to conduct some clinics. "We had a great clinic with him, and then I went up the coast to watch him do another clinic and just soak it all up and learn some more," she said.
Bosch and her horse take part in NRHA's Green Reiner program. She recalls her first reining event fondly. "It was just amazing. People are just so supportive cheering you on, and it's the best feeling," she said. "Sam Oldfield and Sara Honegger from NRHA came to visit, and they were talking to us about NRHA, and how it's really a big family, and it just all resonated with what I've always wanted"
"There is such an amazing sense of sportsmanship, and it is so fun, exciting, and motivating. I hadn't experienced that."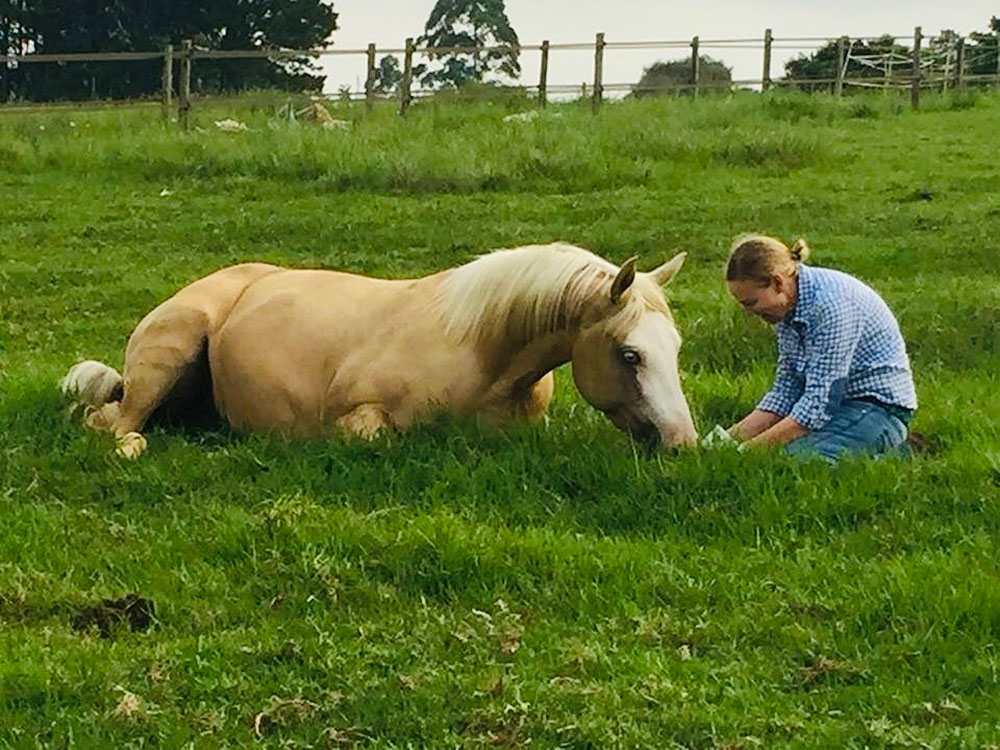 Bosch has friends who still compete in English, but she hopes to eventually convert some of them to reining. "I just want them to try reining. I've been successful with two people, and I'm still working on the rest," she said with a laugh. "Reining is a growing sport here in South Africa, and we're fortunate to have some great reining bloodlines here in this country."
Bosch is in training with Lizelle Garland at Garland Equine. When asked about her goals, she shared, "a partnership with my horse is key, I'd like to compete to the best of mine and my horse's ability. It's my responsibility to ensure that my horse has everything necessary to achieve her full potential and together enjoy every minute of the journey we've embarked on."