Members of the Western industry are likely to feel that the equine industry is comparable to a small family— always lending a helping hand and supporting one another. Like farmers, horse owners often run into unforeseen events and must troubleshoot accordingly.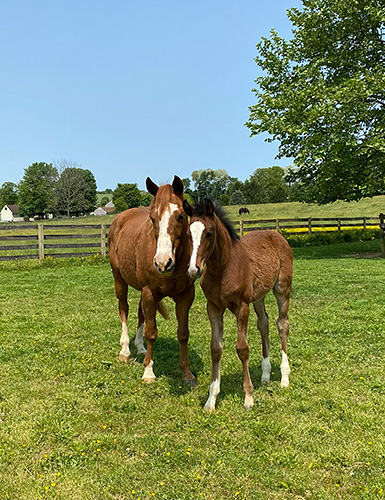 Patrick Weaver, located at Dunatos Ranch (Dunatos Quarter Horses), recently stepped in to help someone in his community, as family does. While on a delivery for their hay brokerage in Lancaster, Pennsylvania, Weaver spoke with a frequent customer at their dressage operation.
They shared with Weaver their unfortunate loss of an incredible broodmare due to colic, leaving behind a six-week-old Dutch warmblood foal, Tehya. The foal's late dam, Sioux, had a successful dressage career, and they have hopes that she will follow in the same footsteps.
Although the farm attempted to pair the foster with a mare they owned, each match proved unsuccessful. Weaver thought of a potential fit with his Quarter Horse mare back at the ranch, "Izzy."
"The minute I saw this foal, I thought Izzy would be the perfect fit companion for her," Weaver said. "I had them come over, and Izzy instantly acted like it was her own baby and adopted it. They have been together for almost a week now; it is pretty cool to see."
The 25-year-old mare, In Your Eyes (Reminic x Smoken Hillbilly x Mr Gun Smoke), is a cherished member of Dunatos Ranch. Her four NRHA money-earning offspring have accrued $8,921. In addition, they have also found success in the cow horse industry, bringing her offspring's LTE to nearly $35,000, according to Weaver. She has recently been in foal with top NRHA sires such as 2021 NRBC Level 4 Open Champion A Vintage Smoke and NRHA's leading money earner, Patriot, with over $834,000 NRHA LTE.
"I know a lot of people have lost broodmares before being with the foal, and it is very stressful, so I know the owners are very relieved that this baby can be raised with a new mother," Weaver said. "Izzy has the best personality probably of any horse I've been around. My nieces and nephews love her and play with her. She is just a very special mare."  
Because Izzy is not currently nursing a foal of her own, the foal is currently being fed formula and enjoying the company of its new mother. Both parties were thankful she took to this foal when it needed her most. 
Despite the differences in breeds, the unique pair have come together seamlessly. "It's a beautiful thing to see them in the pasture together," Weaver said joyfully.