Mark & Lisa Doering
Classic Canyon Ranch is quickly becoming a familiar name in the reining horse world, and the friendly faces of owners Mark & Lisa Doering are welcomed amongst most any crowd. The Doerings have already sponsored various events in the name of their ranch and have horses showing under themselves and their resident trainers, Adam & Filippa Miller. With all this involvement, one might be surprised to learn that they have only been in the reining industry for about a year and a half, and Mark just rode his first reiner in January of this year.
"We've spent a lot of money and put a lot of effort into building a world-class facility, and I think, we have an excellent trainer with a big future," Mark stated. "I want people to know that we are real. We're not just working out of a shed in somebody's backyard. We've got the foundation to be a top-notch player in the reining industry. So, we could wait three or four years to get really involved, or we can let everybody know who we are now. Why wait?"
So, who are the Doerings, and what, exactly, is Classic Canyon Ranch?
Lisa Doering
Like so many women currently in the reining horse industry, Lisa was once a horse-crazy little girl. From the first time she saw a horse, she wanted one of her own; however, her parents lived in the city and though she begged and pleaded, they never got her a horse. Therefore, as soon as she graduated high school, she made her own way to horses by taking a job on a ranch.
"I loved it! I worked hard and learned a lot, but eventually decided that if I ever wanted to do more than work on a ranch, I'd better get an education. So I left that job and went to school at Southern Methodist University in Dallas and got a law degree," she explained.
While Lisa's career kept her busy, she still found space for horses to be in her life. "My therapy was to breed horses and raise babies, but they were just kind of mediocre. I was breeding and riding, but not showing. With my work schedule, showing was just too hard."
Even then, Lisa's eye was on the reining industry, and the foals she produced were a mixture of reining and cutting lines.
Mark Doering
Mark worked as an engineer for oil and gas giant, Exxon, before developing his own companies. "I would buy land, drill wells, build up a company, and then sell it to a bigger company. I did that three times before I retired at 55," he shared.
Like his reining career, Mark's riding tenure began late in life. He was in his 50s living in Santa Fe, N.M., and his friends who trail rode talked him into buying a trail horse. "He was a quarter horse, and his name was Poco. He was the slowest horse ever. He would walk slower than a turtle, and I'd have to lope to catch up. I didn't want any more of that, so my second horse was part draft, part Thoroughbred, and I never had to try to keep up again. That was what I had when I met Lisa. I had a horse. Now we have 70 horses," Mark said, shooting a look at his wife.
The Doerings dabbled with various breeds of horses until about four or five years ago. "Lisa wanted to breed her mares to better stallions, and Lyle Lovett is my cousin. So, we went to one of his concerts, and after the concert, everybody was at a meet and greet. I said, 'Cousin, Lyle, I want some of your semen!' Everybody goes, 'what?!' He said, 'I know what you're talking about. You get a family discount.' So, we bred five mares to his stallion, (NRHA Million Dollar Sire) Smart And Shiney. Two of the foals are here competing in the Derby, and the other three all have great homes. That is how it got started," Mark explained.
The Doerings like where their breeding program is going and are especially enthusiastic about one of their futurity horses this year. They raised the filly by NRHA Million Dollar Sire Little Joe Cash out of a daughter of NRHA $13 Million Sire Gunner and named her Princess Josephine. "We think she is a possible Level 4," Mark said. "We also bought a weanling filly from Toyon Ranch last year. She's a Gunner over Chexanicki, and she is so pretty. Her pedigree is amazing. She is our future for that year. We also just had a full sister to Princess Josephine born this year, so we're excited about what is coming up through our breeding program."
Over time, the Doerings have improved and grown their broodmare band, built a covered arena, and a barn with apartments and a lounge area. They also replaced the dirt in their arena with good Kiser footing and added water features.
"We just did it for ourselves initially. I've always wanted a covered arena so I could ride in bad weather or sunny weather," Lisa admitted.
Classic Canyon Ranch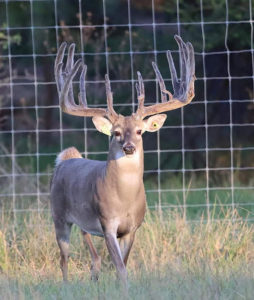 About 20 years ago, Mark purchased a 700-acre hunting property just west of Waco in Valley Mills, Texas. He soon learned that even with the best game management practices, the free-ranging, native deer never got big enough to satisfy him. So, he high-fenced the property, and introduced better genetics into the existing population; however, they still weren't producing what he wanted. "It just wasn't working," he said. "So, I got some breeding pens and bought the does and the bucks, and I still wasn't getting the deer I wanted. Then I started using artificial insemination, and now we have some of the biggest, prettiest bucks in the country."
The Doerings maintain the deer ranch for their own use and to share with a few choice friends. They also sell bucks and does to other high fence ranches in Texas.
They take pride in the fact that, unlike many pen-produced deer, theirs retain a classic, typical look.
The Reining Saga Begins
Lisa began showing reiners soon after the Millers were hired about a year and a half ago, but Mark just started about six months ago when Lisa and the Millers talked him into trying one of the Smart And Shiney babies they raised. He loped some circles and spun a few times. "Then I ran him. I thought, 'That's pretty good.' Then when I stopped, I went, 'Oh, no. I am hooked! I want to do this.' So now, I have my own horse and am looking for a better non pro horse. I am totally into it," he said.
Realizing that he would have to start showing in order to see his wife also added to Mark's decision. "I looked at her schedule for this year, and I said, 'Are you really going to all of those shows?' She said, 'I really want to.' Well, I want to see my wife and I'm not a good spectator, so that's also why I started riding reiners myself. Now we compete against each other. In the last round, we got exactly the same score, which is good because normally she beats me a little or I beat her a little, then we kind of gloat until the next show. Right now, we are tied," he said with a grin.
"Part of setting ourselves apart, I feel like, will be our trainer, Adam. We hired a young guy, he's 22, and we figure, about the time he's 30, he's going to be at the top of the game. So, we're investing in him, and in horses for him. Of course, we're hoping he'll stay that long, and maybe, once he wins, he won't leave! So, right now, we are building around him and his wife, Filipa, who also trains."
Previously, Adam had worked for Yonathan Baruch and then for NRHA Million Dollar Rider Nathan Piper, and Filippa had worked for Fred Thomasson. "So, we were excited to find them," Lisa said. "We couldn't take a trainer that was bringing their own clientele because our barn was already full, and the new extension was full. They are such a nice couple, and they both have a lot of talent and great work ethic."
Classic Canyon Ranch's horse program is still growing and developing along with its trainers. The Doerings are excited to be a part of the reining industry and are even considering an NRHA Corporate Partnership in the near future.
Lisa's goal in the industry is similar to most other beginning reiners'. She just wants to move up the Green and Rookie ranks to be competitive in the Non Pro. Mark, on the other hand, has a unique objective. He said, "I have absolute goals. I want to score my age. I'm 72, and soon I'll be 73 so I've really got to step up my game."
Simply put, the Doerings are wonderful people having the times of their lives, and their delightful nature only adds to the appeal of the reining industry. Lisa said, "You know, one of the things that most attracted us when started getting involved with things is how nice the reining people are. They are just a great group of people. So, who wouldn't want to be involved?"
Footnote: Shortly after this interview, and before the 2022 NRHA Derby finals where Americasnexttopgun won the Level 4 Open, Mark purchased a full brother to him from Casey and Nicole Deary: Americasnextbest, lovingly called "Goose." With the 4-year-old gelding by Walla Walla Whiz out of Americasnextgunmodel, Mark feels like his goal is getting closer.