Reiners saw a new face and megawatt smile stepping out of the Coliseum Monday, June 20, at the 6666 National Reining Horse Association Derby presented by Markel. The curly-haired young man was unknown to most – and his name is Grant Goetcheus.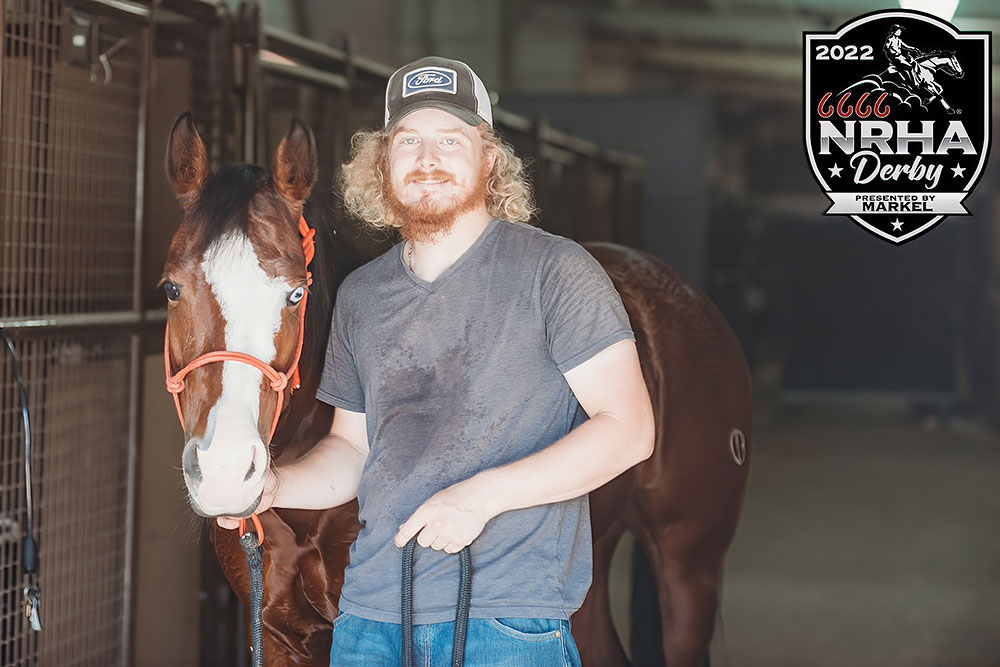 Competing in the Open Derby Novice Horse division, Goetcheus and his mare Spooks Smoken Gun (Spook Gotta Gun x Smoken Sno Chex) marked a 203. The score may have disappointed some, but Goetcheus was proud.
"She did perfect, I got in her way and that score is on me, not on her," Goetcheus said. "I'm so happy with her, she did everything I wanted. We spun four times, we got our lead changes and she stopped perfectly. I think I was just in her mouth too much and she made it show."
Goetcheus and "Dottie" have two other ancillary classes this week, and he hopes to trust the mare more during their upcoming runs.
"I've got to put my hand down and trust the years and hours I've put into the saddle," Goetcheus said.
Why come to one of the largest reining shows, you ask?
"Why not come to the Derby? I like to challenge myself and I have a supportive mother that helps me so much, so it was financially available to me. If not for her I wouldn't be here," Goetcheus said.
Goetcheus and Dottie's story began when he purchased her in 2019 with 60 days of riding on her. Since then, he's done it all himself.
"Everything the mare knows it because of me," Goetcheus said. "I've ridden her every day pretty much."
Goetcheus got his start riding at summer camps in Western Michigan growing up. When he attended the University of Findlay in Ohio, he was acquainted with reining for the first time.
"I ended up buying my mare during school… and I started riding her with Mary Marsh and Jerry Coleman at school," Goetcheus explained.
From there, Goetuchus worked for reined cow horse trainer Travis Young in Montana.
"I realized the open life was not for me. Now I'm in the [transition period] on my open card," Goetuchus said.
Next, he plans to sell Dottie and purchase a two-year-old. The remaining two years of his open card and two-year-old training would sync well, giving them an opportunity to show as a non pro when the horse is four.
"I want to thank everyone along the way. Mary Marsh, Jerry Coleman, Travis Young and Kelley Hall now. And of course, my mom," Goetcheus said.