It has been an eventful year for Kary Key and Cant Spook Me (Spooks Gotta Gun x Te On The Trashy Side), a.k.a Spook, Wonder Pony, or Unicorn.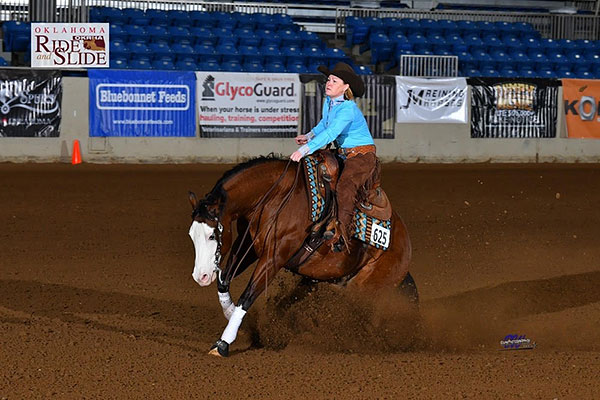 After the announcement of the Bob's Custom Saddle Showdown, Key decided to enter the Tulsa Reining Classic to qualify for the Adequan® North American Affiliate Champions held during the NRHA Futurity. "All I had to do was get a score to qualify for the Non Pro," Key said. "I was so panicked because all I had to do was get a score that I did the wrong pattern."
Not all was lost; the North Central Affiliate Finals in Lincoln, Nebraska was coming up, and there would be another chance for Key and Spook to qualify. "We left early Thursday morning and showed Friday morning. We just needed to get a score, and he not only did that, he also won money. Then we loaded up and drove back to Texas that same day," she recalled.
Key and her mother, Pat Fletcher, bred and raised Spook, then made the tough decision to sell him as a 2-year-old. Spook then went on to qualify for the 2014 NRHA Non Pro Futurity Finals in Levels 1 – 4 with then-owner Ryan Birkenfeld. Following his Futurity year, he was sold to Michelle and Kirk George, with Michelle showing the talented colt for three years.
Unfortunately, Spook constantly battled some soundness issues, so the Georges decided to sell him following his last year of derby eligibility.
Key quickly purchased the talented gelding back, and worked constantly on perfecting a program to keep Spook comfortable, sound, and happy. When 2021 rolled around, it seemed that was working as it should, and the Millsap, Texas, Non Pro set her sights on the NAAC.
The new Bob's Custom Saddles Showdown have been a big incentive for riders with horses over futurity and derby age, "to have the chance show him in the coliseum, I haven't been able to do that because I didn't own him during his futurity and derby years."
Key added, "There are so many people that go to the Futurity just for the ancillary stuff. The owners and those riders are the ones that buy the futurity horses, they are the ones that breed to the studs … these are the futurity and derby horses later on in their career. Nobody wants to be done in October so to have opportunities like this is great for our industry."