Tasmanian NRHA members attend the Oceania Regional Championships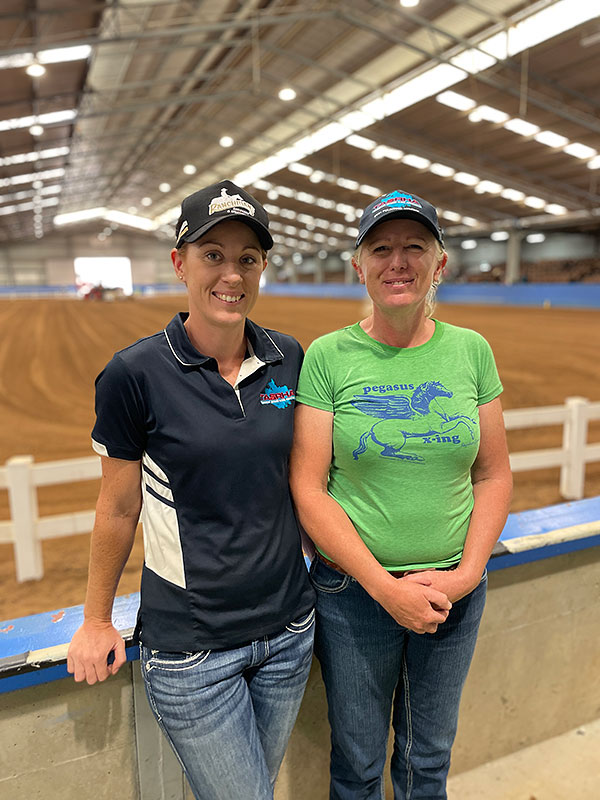 Tell me about the journey to arrive at the Oceania Affiliate Regional Championships from Tasmania.
Kath Milbourne: We had to come by boat. Our horses stayed in their float [trailer] throughout the whole journey. We had to drive around one hour to the boat and they had to stay below on the boat for ten hours and we weren't allowed to go down and see them during transit, so that was a bit nerve-wracking. After we unloaded off the boat and checked on our horses it was only about a 40-minute drive.
Those are such unique hoops to jump through to get to this show. What was your deciding factor to attend?
Alex Cruse: The opportunity to spend time with more like-minded people and be amongst the reining community was so worth it. it is a really good opportunity to push ourselves and experience a bigger atmosphere.
What was the experience like being at the Championships?
Kath: It cements why we do this. To see this event, it makes us want to really grow our sport back home and get more people involved and more horses, too. The support we have had from people we don't even know who have come up and said, 'You guys made the big trip from Tazzy, welcome!' has been awesome.
What has been your favorite part of attending this large of a show?
Alex: Being around everyone in the round-up pen and seeing all of the horses has been the best thing. If anyone is considering attending one, they just need to make it happen because it is an experience they won't forget!
Kath: Just keeping my eyes and ears open! Originally even the warm-up pen was a bit intimidating. For me and my horse, having him settle in the environment and watching him absorb it all has made me step up in the show pen. We have only just started stopping and I did my best stop ever here! The whole environment is amazing and we are already plotting to come back.
What is the future of reining in Tasmania looking like?
Kath: Now that we have a good venue in Tazzy, we have had people as far as Queensland saying they want to come show. We are thinking of putting on a state show and trying to entice people to come show their horses at our fantastic new venue!