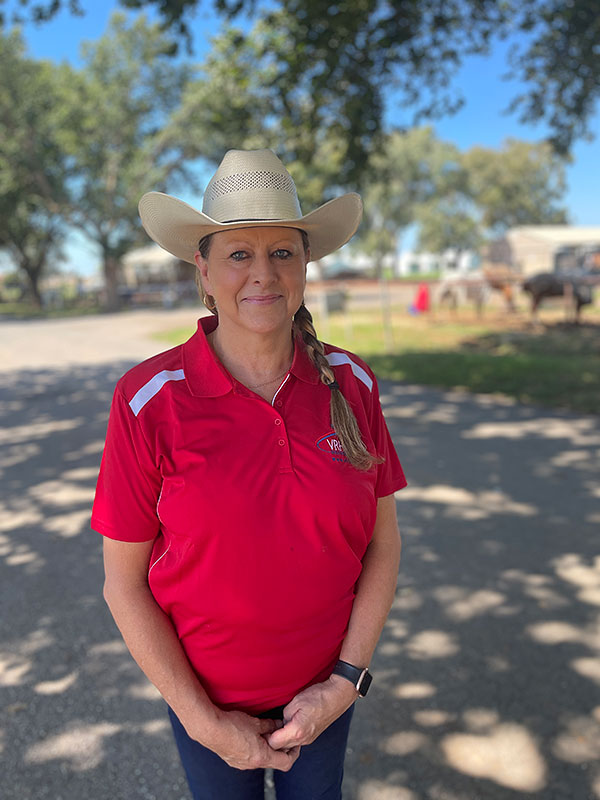 If every successful event has a strong leader, the Oceania Championships in Weribee, Australia, can be extra thankful for the Victorian Reining Horse Association (VRHA) President of 12 years, Wendy O'Sullivan. Throughout 500 runs and 15-hour workdays, Wendy held the event with pride and determination, and all as a volunteer.
"I just like waking up every morning and going, 'Let's go to a horse show."' she said with a smile. "It is a lot of hours and a lot of time, but I love seeing smiling faces and being part of it. It is not just a horse show. It is a family. It's catching up with people you haven't seen in a while, and it all comes down to just wanting to be part of a big reining family."
It is no secret that our reining family in Australia had gone through an incredible amount to reach the point of the inaugural Championships. From devastating fires, floods and strict lockdowns through the global pandemic, Wendy and the team were determined to make it a success.
"It is about not letting the team down," she said. "We pushed through the hard times because I didn't want to let the members down. Really, that's what it comes down to. We all work together and that helps a lot. The more tough times you go through, the tougher you get yourself."
Although Wendy doesn't ride herself, she became involved when her daughter moved from dressage horses to reining. She always had a passion for Quarter Horses and once her daughter started, she wanted to be involved in the club to help it succeed.
"It actually costs me to come host a horse show," she said. "I choose to pay my own accommodations and my own way, and I guess it is the spirit of a nonprofit association. What you put in, you get out of it. It costs me more than some of the horses who enter the show just to come work it, but it is just my personality. I love seeing people with their horses, and I have a passion for the reining horse. I think to myself 'What else would I do?'"
When the New South Wales Reining Horse Association was unable to host the championships during 2020 due to the pandemic, Wendy immediately told the VRHA Board that they should attempt to host it. She has spent 50 hours a week since last May between the financials, administration, management and typical board member duties.
"I never go to a horse show expecting a 'Thank you.' When I leave, I walk away from the show thinking 'How awesome was that?'"
Wendy joined the VRHA Board in 2007 with her daughter and from then on it was full steam ahead. She has held multiple positions to get a clear picture of what was going on with the club and to learn from those who had been part of it for a longer period. In 2011 people asked if she would be president, and she has consecutively held the role ever since. Every year when she thinks she is overcommitted with other things and might step down, the team around her steps up and is willing to do whatever they can to keep her.
Along with serving her club and being a wife, mother and grandmother, Wendy has helped her husband manage the accounts and books of his electric business. This insight has given her talents that translate over to serving the Board effectively, but she has since decided to follow a new passion: disability support.
"It is more who I am," she said. "Helping people who are less fortunate than us is important."
She has been working on becoming certified and will begin 150 hours of workplace certification the day after the Oceania Affiliate Championships conclude.
"I just keep going and wanting to help people," she said. "It all intertwines in my life—I would rather give someone else an opportunity than take one myself."