While the average 10-year-old is playing outside in the dirt, Emanuel Gebert is sliding and spinning in it, atop his reining horse, Gunnalittlestep.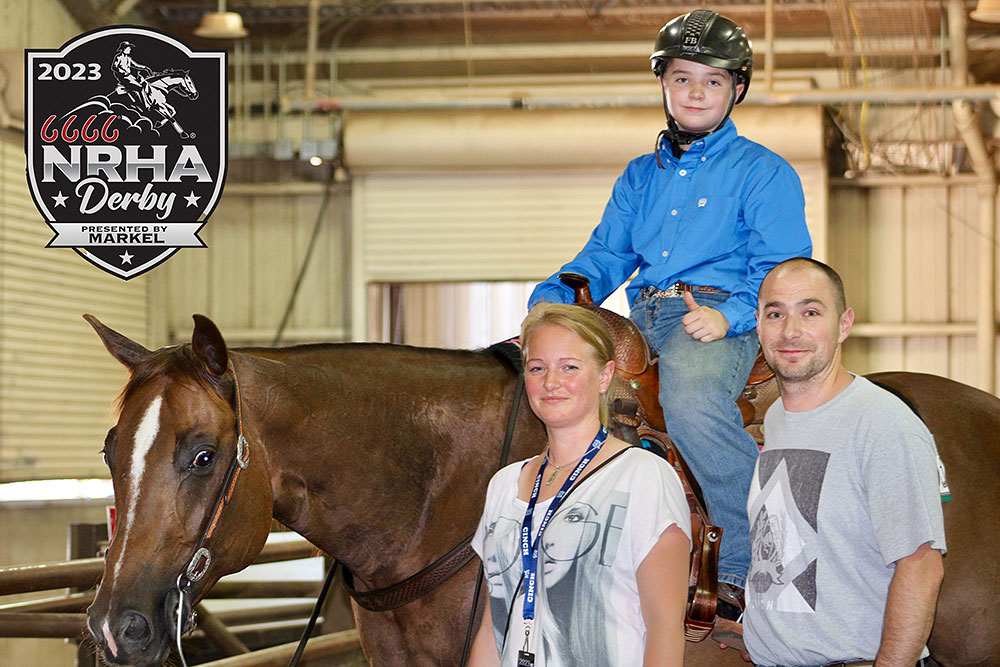 Coming to the 6666 NRHA Derby presented by Markel all the way from Geisenfeld, Germany, Gebert is riding his eight-year-old gelding, by NRHA Nine Million Dollar Sire Gunnatrashya and out of Gay Jays Little Step, bred by his mother, Angelika Gebert.
"I grew up with reining horses, and it's just fun," Emanuel says, "I just love riding."
Throughout the duration of the NRHA Derby, all three members of the Gebert family will be showing. Emanuel started the family off on a good note, with a score of 138.5 in the first slate of the ancillary Non Pro.
The Gebert family and their horses flew into the United States three weeks ago and have been staying in Gainesville, Texas, as they prepared for the show. However, for Angelika and Markus, regardless of the fun to be had throughout the NRHA Derby and the weeks leading to its preparation, it's just as exciting to watch their son follow in their footsteps at home.
"It is a lot of fun watching him, you know. In the show pen, it's a lot of fun, but it's even more fun at home when you watch him riding other horses," Angelika shared while watching her son ride.
Emanuel has big goals of not just following in his father's footsteps but exceeding them. Markus Gebert was the 2013 European NRHA Futurity Champion, and Emanuel has plans to win not only the European Futurity but also the NRHA Futurity.
When asked where they see their son in another five years, Angelika and Markus Gebert can't say for sure where he'll be, but they do know one thing for sure, Markus proudly states, "Whatever his dream is, he will be riding horses, and he will achieve that dream."