It began with a joke among family.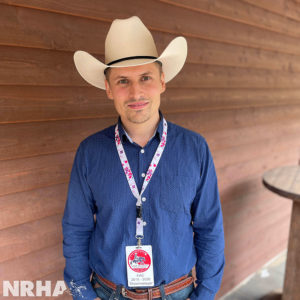 Although his wife had ridden dressage, 2021 European Affiliate Championships Show Manager Casper Kuusisto Dohn had never swung a leg over a horse. That changed in 2017 when Casper's cousin, professional trainer Natasha Moeller, asked what he wanted for his birthday.
"You can give me a riding lesson," he quipped.
In 2017, Casper took his first two lessons. "I rode a really good show horse, but then she was bred, so I only had two lessons," he recalled. "I kept asking if there was another horse I could ride, and at the beginning of 2018, my cousin said she had a 5-year-old they had raised, but it would be a bit of a gamble because the horse was so young. I did some lessons on him, and it went fine. I began doing lessons every week, and my wife started taking lessons as well."
All went well until a man from Norway came to the farm to look at the horse, named Ruff Jazz. "I realized that if he got sold, I would not be able to ride anymore, so we bought him," Casper shared.
Ruf Jazz, by Dunits Swing N Jazz out of Ruffas Satin, was trained as a reiner. "It was really a coincidence that he was a reining horse that was bred by my family. I continued to get lessons and thought reining was super. I started showing in 2019 just to try it out, because the first show we had was at our farm, and we didn't have to go anywhere. It just took off from there!" he recalled.
Casper's wife, Anna Alexandra Kuusisto Dohn, also began to show reiners, and the two shared Ruf Jazz for a little over a year before adding to the herd. "We would both ride him, and if one of us worked him, then the other would just ride. At the shows, I would do a few classes, and she would do a few classes." Casper added, "My wife is very competition-minded, and it wasn't really good enough anymore to have the same horse and share it. We decided if we were going to compete and really show what we could do, we each needed our own horse."
While there might be a bit of friendly competition between Casper and Anna, they enjoy their time together horseback. "It's really nice. We go to the stable together and ride five times a week. We go there together and prepare the horses together, then we train separately. Then we walk at the end together and go home," he said.
Casper's head-first approach to riding and showing is typical. "I jump into everything. I'm on three different kinds of boards, and I'm the show manager here," he shared.
In addition to managing the EAC, Casper has also managed the Danish Quarter Horse Association Danish Championships as well as a few shows at the farm. "We have a big show at the beginning of May, but it was canceled due to COVID-19," he explained.
Casper has also worked as a show secretary but quickly found that being chair-bound in the office wasn't for him. "You have to sit there all day and do a very important job, but I like being the show manager where I can go around to the stables and the riding area and visit with people and solve problems. Yes, sometimes it is difficult when people are mad at you, but that's part of the job," he said. "I like when people have a nice time and say it's a nice show that's running smoothly. Even when people are not happy, it can be fun and challenging to find a solution."
What's Casper's go-to solution for dealing with conflict? "I keep smiling and always try to be positive and open. I was at the Danish Championships last year, and a trainer said to me, 'I don't understand it. How can you be going days with people throwing $#!* at your head, and you're still smiling?'" he recalled with a laugh. "It's because I know that if I am positive, everyone is happier. Also, the few that are mad and not happy will be kinder if you meet them with a smile." To keep up with the NRHA European Affiliate Championships, follow the show on Facebook or visit NRHAEAC.com