During the European Affiliate Championships, you can feel the buzz of excitement as they wait to compete and see the Champions crowned. You can also find another type of buzz as people gather around a chalkboard throughout the day eager to see the next menu item displayed.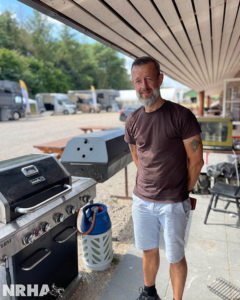 Ole Vorm and his team create magic in a small kitchen near the show office of the arena creating an atmosphere that feels as though you are eating at home with your closest family and friends.
Ole has been a chef for 35 years, has had a catering business, is an educated sailor and owned several companies along with working in the Danish school system.
At the EACs, the main hat he wears is that of the head chef.
"It went pretty naturally," he said. "They built this large arena and we were planning to have the 2019 European Affiliate Championships and it became my duty."
He started working at horse shows three years ago because he and his wife have two horses at the ranch where it is located.
"Actually, I figure out the food the day before," he said with a laugh. "Some of the dishes fit typical for this arrangement with the size of the kitchen and bar b que areas, some dishes don't fit. I have several that I know fit good to this show and the people at it. After three years of shows, I know a lot of them and what they want, and I try to make it.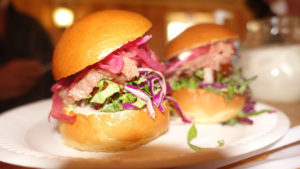 "I have a policy myself that when you spend a week here you have to eat healthy to be able to compete, work all day with the horses and walk a lot of steps. You have to eat good food."
His passion clearly exudes from him to his entire team of volunteers and to every contestant and attendee.
"Shows like this it is very important for all to remember to eat well," he said. "We can buy salads that are pre-washed and cut, maybe it is a little more expensive, but then you can use it in this situation. You can't put a price on that. It doesn't matter if people have to pay a bit more for healthier food, but it is a balance."
Ole expresses that he could not make it all happen without such a great team that he works with and that they all enjoy each aspect of the process.
"My favorite part is knowing all of the people and, of course, the horse show. Coming together is lovely."
Photos by RHV TV & Video Publication