It's a long drive to the Oklahoma State Fairgrounds from Lincoln, Nebraska, but it's one that NRHyA delegate Chase McInteer felt strongly about making. The 14-year-old and his parents made the seven hour trip south so that Chase could not only compete in the Limited Non Pro classes, but he could also spend his time fulfilling his duties as an NRHyA delegate.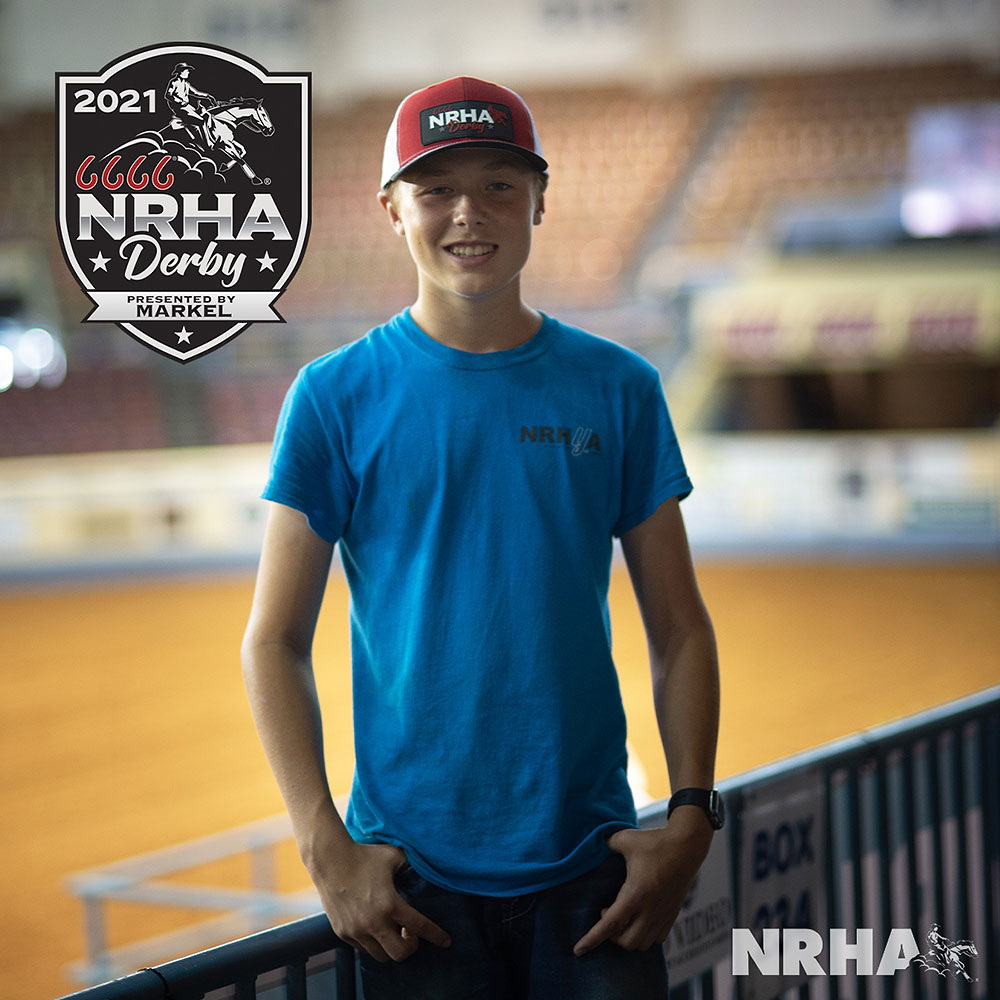 "It was a good year to come. I'm doing really well with my new horse, and we were just wanting to get down here," Chase shared.
It was a successful week on all fronts, as Chase and his horse, ARC Smoking Gun, finished third in the first slate of the Limited Non Pro. Unfortunately, a few penalties in the second slate of competition derailed their efforts for another good finish. "I overspun, but that stuff happens," he said.
McInteer got ARC Smoking Gun, a 15-year-old gelding by NRHA 12 Million Dollar Sire Gunner out of Custom Mahogany, last December. "He's amazing and I enjoy riding him a lot. He's great," McInteer said. "This horse came from Mike Garnett. I just liked how easy he was to get along with. He's a lot of fun."
Interestingly, ARC Smoking Gun's sibling, Xtra Vintagemahogany, won both the Open and Non Pro divisions of the GlycoGuard Novice Horse Derby with the father-daughter duo of Craig and Addisyn Schmersal.
Chase, 14 years old, has been showing reiners for about seven years. He started showing them because his mother had owned and shown reiners since before he was born. "I really just enjoy being in the barn and doing stuff outside. I also show lambs and plan to join FFA when I can," he said.
When it comes to sports, Chase stays busy, playing soccer, tennis, and running cross-country.
Chase decided to be even more busy and serve as an NRHyA Delegate to see more of the behind-the-scenes action that happens around NRHA and NRHA events. "I was curious what it was all about, and I thought it would be a lot of fun. So far it is," he said. "Delegates have some basic responsibilities within the NRHyA, and the main purpose is to connect with youth and let other people know what is happening in NRHyA."
Soon Chase will have a year of being a delegate under his belt, and he's turning his sights to a higher office. "I would like to run for an officer position. I just haven't decided on which one," he said. "You have to be a delegate for at least one year, and then you can run for an officer position. You just can't run for President, because you have to be an officer at least once."
When asked what he would tell someone thinking about joining NRHyA, Chase said, "I would highly encourage it. It has been a great experience for me so far. I would like to help anyone who wants to get more involved find a way to do so."