A handful of years ago Steve Ross was asked to call the action during the live webcast of a major NRHA event. Since then, he has regularly hosted live webcasts, and his voice has reverberated through houses and barns around the world. Most recently he joined another lineup, as well, working with Jeff Medders to provide commentary on reining events on the Cowboy Channel.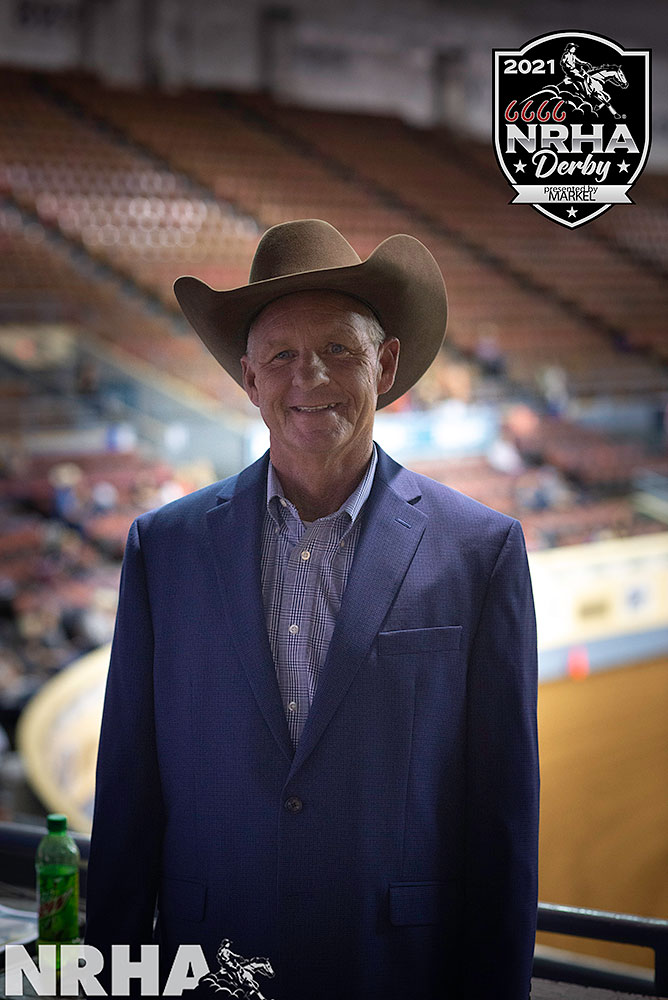 He's not just a horseman that got tapped to do this job. While many people know Steve as a trainer and NRHA judge, they may not realize he has an extensive career in sportscasting, ranging from 5A Texas State High School Championship schools to NCAA basketball and football.
The Horseman
Steve began training horses when he was 13 years old. He trained and showed pleasure and halter horses before deciding in the 1980s to focus on reiners. Former NRHA Futurity and Derby Champion and Hall of Fame member Doug Milholland had a huge influence on him as a horseman. "I can say that the stuff I learned there I still use every day. It was the greatest apprenticeship I could have," he recalled.
Ross also worked with NRHA Hall of Famer Bill Horn and renowned cutting horse trainer Winston Hansma. As his business evolved, he began to focus on buying yearlings and selling 2-year-olds, which he still does with great success. "I have had some great influences that have taught me a lot. The thing about all three of those men – Doug, BH, and Winston – is that they all loved horses, and that came through in everything they did," he said.
Like his mentors, Steve is passionate about the equine industry, which influenced his decision to become an NRHA judge. "I love horses, and judging lets me see everyone, and stay current. As far as getting my judges card, I thought I could contribute, and I think it is every professional's responsibility to be a judge. You can't complain about the judging if you're not going to be a part of the solution," he shared.
The success of his business selling horses has curtailed Steve's judging schedule. "We sell so many, it's hard to find in a reining where you haven't sold someone a horse in the last 90 days, and I always want to avoid that conflict of interest, so major events are out for me." He added, "But that's fine. I can still judge a weekend show here and there."
The Sportscaster
Steve began his sportscasting career in Texas, spending the Friday night lights at a 5A school overlooking a football field. The team went to the State Championships every year, and he called games and worked as a sideline reporter at venues ranging from the Astrodome to Texas Stadium. He eventually moved on to Tarleton State University where he handled play-by-play duties for the Texan's football and basketball teams. Over the years he provided commentary for other NCAA football, basketball, and baseball.
He also spent time as the host of a popular morning radio show and owned a couple stations for a while. Still, his love of horses meant he split his time between the two very different careers.
A Voice For the NRHA
Now Steve has the best of both worlds, melding the two together for a unique and diverse position as NRHA's premier events grow and evolve. With his position as a live feed commentator, he has used the skills gained from his dual careers to bring a better understanding of reining to people around the world. "I think enhancing the webcasts has been great for the sport. I think it helps the viewer, and the reining industry, if it's done properly," he said.
Steve employs a less-is-more approach during a webcast. "People can see what is happening, and you let people watch the event unfold. I want to give insight into what they are seeing," he said.
His other philosophy? The finals aren't a two-hour production; instead, they are numerous four-minute episodes.
"It's never about me, or whoever I'm broadcasting with. I think we ought to be 100% exhibitor focused. The rider's family and customers will be watching it. For those people, the show is only four minutes long. You have to keep that in mind," he said. "I talk about the horses and give some insights into what the judges are seeing. I'll point out trends, bloodlines, and how things have changed. I try to be a conduit between the actions and the fans."
Speaking of fans, Steve regularly gets messages from around the globe. "There is a group in South Africa, and it may be three in the morning, but they'll be tuned in. I know of some people in Israel who will have a group together to watch, and people from Scotland, and all over," he said.
Lastly, Steve endeavors to never speak negatively about a rider. "I just won't go there. If something goes wrong, people can see it, and that rider doesn't need me to embellish that. I want to be empathetic and share that we have all been there. Reining is a humbling sport, and I've seen these riders have great runs," he said. "We're not doing an op-ed piece up there. This is not the place for it."
Looking Ahead
The NRHA and its event management team have tapped Steve to help add production value to the sport's major events, and plans are in motion to grow this important aspect going forward. NRHA Events Manager Cheryl Cody said, "There is so much momentum in the reining industry right now and some incredible opportunities to continue to showcase this industry and this association. With his dual background as a broadcaster and a reiner, Steve can contribute so much as we go forward. We are already planning some exciting new activities and directions for the NRHA Futurity."