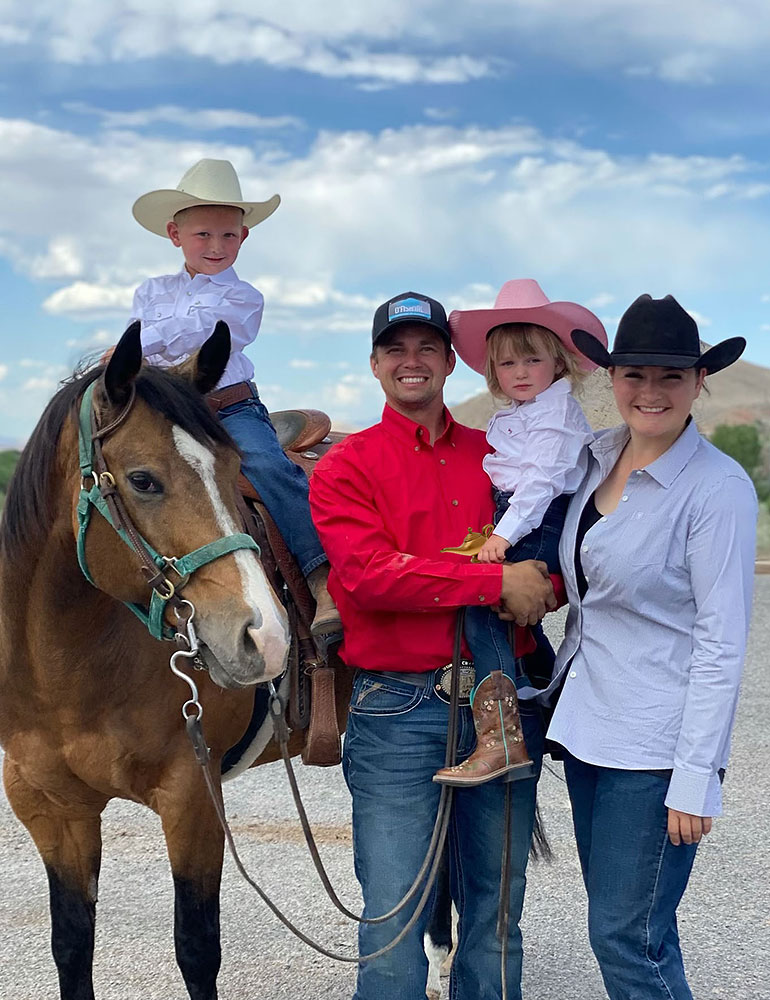 Emily Winegar-Mabey and her family traveled to Las Vegas in 2019 for the inaugural Run for a Million. The excitement of the high-stakes event was a poignant reminder to the non pro of the love she had for reining competition.
Emily and her parents, Wallis and Jane Winegar, own Green Valley Ranch, which was once based in Aubrey, Texas. The family sold the facility to Joao Marcos, and the sprawling, picturesque ranch became Cardinal Hill Training Center. Emily married Jeff Mabey in 2014, and the couple, along with their three children, now live in South Jordan, Utah.
"I've definitely missed it. I have a lot of amazing things in my life now. I have my wonderful kids and an amazing husband and family, and I'm still involved with my parent's breeding farm in Utah, but growing up all I did was reining. I was homeschooled and would spend eight hours a day riding, then was gone half the time to show. There has been a void," she shared.
Raising a family, working on the Green Valley Ranch breeding operation and being part of the farming family she married into soon took up Emily's spare time, so riding and reiners took a back seat to life.
That is until she heard of a qualifier for the Run for a Million's $50,000 Added Non Pro Championships being held in Idaho that same weekend. "I told my husband I'd like to go and get qualified. The only problem was I didn't even have a horse legged up or anything," she admitted with a laugh. "I have a niece that is just getting into reining horses, and she had gotten a great older horse to show."
She quickly made a phone call. "I told them I wanted to go show the next day in Idaho to try to qualify. I had ridden the horse once but never showed it. I picked him up Friday night, left Saturday morning, and showed Monday," she said.
Already planning her trip to Las Vegas, TRFAM's $50,000 Added Freestyle caught her eye. Reining freestyle competition opens up a whole new world for reining enthusiasts, and the competitions can be almost magical.
"I was pretty into freestyle back in the day so I thought it would be fun. I called and told Amanda (Brumley) that I didn't even know what I would do as a routine, then asked if I could send them in a video of a freestyle I had done previously," Emily said.
She sent in a video of her 2010 Freestyle Routine at the World Equestrian Games. Click here for the link.
"I guess they liked it because they said yes. By that time, I had already figured out what I wanted to do, and what horse I wanted to take."
What many may not realize is that Emily's mother, Jane, was a costume designer who made thousands of Broadway-quality costumes. "When I give her an idea of something I want, she goes all out. I'd like to say she helped me with my costume, but if I'm being honest, she's the one who made it," Emily laughed.
With a costume and routine in mind, Emily needed a good horse that could grant her wishes, handle the excitement of the crowd, and the flutter and flow of her ensemble. She found the perfect partner in Green Valley Ranch's Hail Of A Princess. The 12-year-old mare is by NRHA Million Dollar Sire Custom Crome and out NRHA Million Dollar Dam Princess In Diamonds. Hail Of A Princess is also a full sibling to NRHA Million Dollar Sire Cromed Out Mercedes. "I am really lucky because she puts up with a lot. When people see my costume, which is pretty elaborate, they'll understand what I mean," she shared.
Emily is looking forward to the week in Vegas. "I don't do anything halfway, so I'm really excited. I always loved how Pete Kyle would engage the crowd during his freestyles, so I try to do the same thing. I hope everyone enjoys it," she said. "I'm excited to be one of the 10 people chosen, and it's going to be fun to be on such a big stage. I look forward to showing what this sport is, and the love I have for it and have had my whole life."