The reining industry was shaken when longtime competitor and breeder, Steve Mitchell, was killed in a farrier accident just after the National Reining Breeders Classic.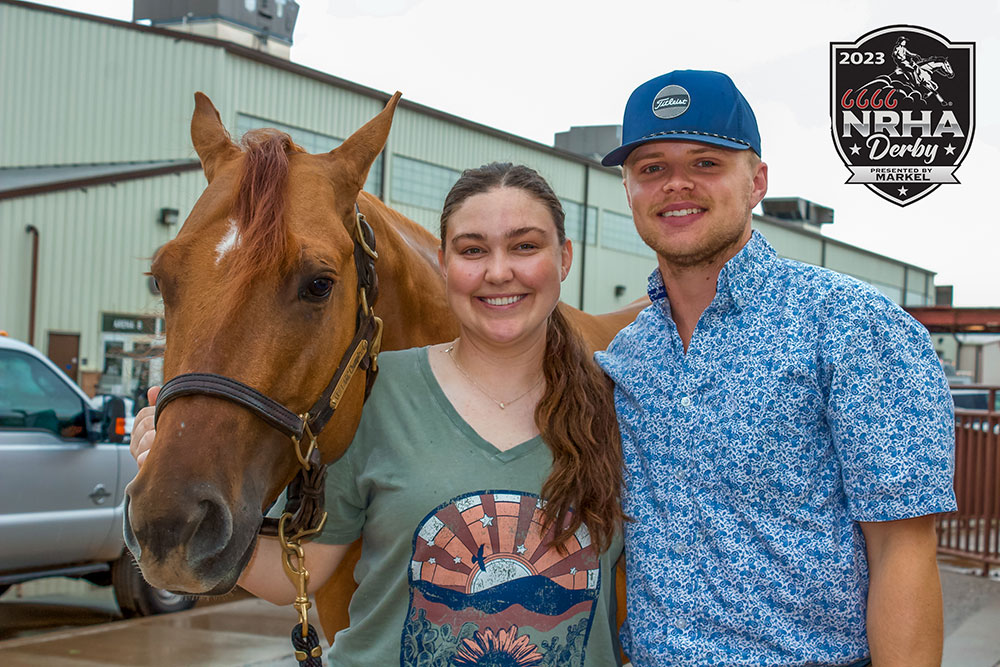 Throughout the 6666 NRHA Derby presented by Markel, his son, Colt, and daughter, Hannah, have been carrying on his legacy. Hannah Mitchell, of Cuba, Missouri, began riding her father's horses after his passing. One Ruf Surprise is a 2018 mare by NRHA Million Dollar Sire Not Ruf At All and out of Surprise Easter Kid, bred and raised by the Mitchell family.
The decision to show at the Derby was a difficult one for the family. While still very much grieving, the consensus was that Steve would have wanted them to continue with what he loved- his horses and the sport.
"It was really hard to come to this show, but he always lived his life to the fullest," Mitchell said about her dad. "We decided he would not want us to stay home; he would want us to take his horses to go show."
The sleeves of Hannah's shirt are each embroidered. One says, "Give them hell, baby," which her dad said before each ride, and the other, "Love you, dad."
Making this show even more special and emotional for Hannah was the song that played during her run of the Non Pro Preliminary round. 'Carrying Your Love With Me' is a song that leads to reflection on how she carries on her dad's legacy, and as she stood in the center of the arena to begin her pattern, she heard its first notes.
"When I was standing in the center before I loped off for my large fast, I heard the words to the George Strait song, 'Carrying Your Love With Me.' I was brought to tears as I heard the lyrics," Mitchell said. "I couldn't help but think he was holding onto how much love we have for him and how much love he had for his family. I immediately looked down at my quotes on my show shirt and could hear his voice in my head. I knew he would be watching over me as I showed and would be beaming with joy that we are carrying on his love for riding and showing!"
Steve Mitchell was a man who loved the sport of reining, and it was important to him that his kids love the sport and his horses as well. He coached them and encouraged them constantly, so it wasn't hard for them to hear him in their ear throughout this show.
"I could hear him all the time that I was uncertain. It was like- you need to go ride her more, or you need to work on this, or you need to do this," Mitchell shared.
Going forward, the Mitchell siblings plan to keep showing their dad's horses, continue his business, and 'give them hell' just like he would have wanted them to.