The work it takes to care for and ride a barn of reining horses is grueling – and finding capable help can be difficult. That makes Stefano Calcagnini's 11-year-old helper Lily Forzani even more impressive.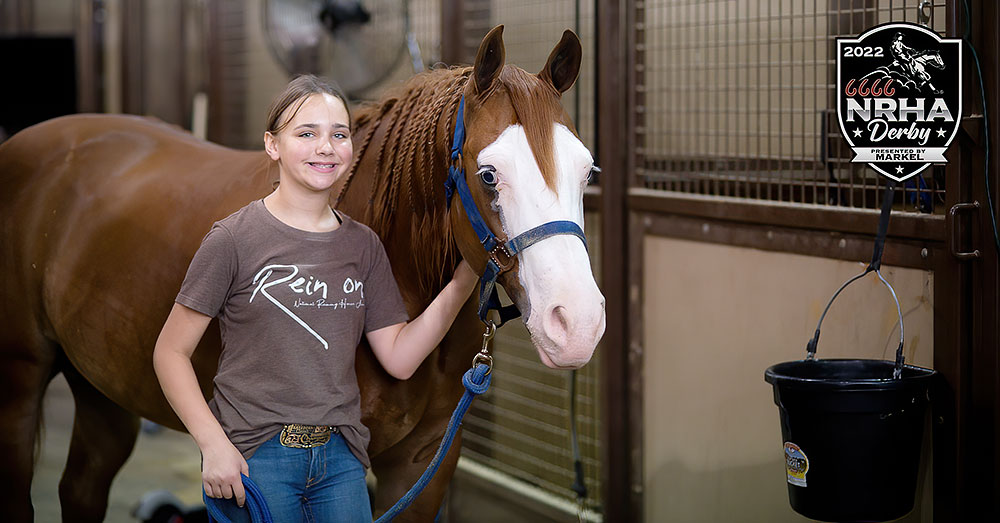 Lily hails from Crossroads, Texas, and helps Stefano with grooming and saddling horses a few days a week. She came along to the 6666 National Reining Horse Association Derby presented by Markel to show her gelding Annies Custom Pistol (Gunner x KR Anniegityergun) and help Stefano.
"I like the reiners' big stops, and they're fun to ride," Lily said. "I like that I get the opportunity to learn."
According to Stefano, Lily's work ethic is so consistent that sometimes he forgets she's 11.
"She reminds me of when I was young. She has that hunger for the horses. I'm impressed with her, for her age," Stefano said. "We brought nine horses [to the Derby] and she managed to saddle everything. We've got one that's 15 hands and she figured out how to make a stool out of my shoeing box."
Lily has learned things big and small from Stefano, including things like how to coil a hose properly.
"I learn a lot from him," Lily said. "I'm happy to keep helping out. I want to train horses."
Lily and Stefano met earlier in the year at The Winter Slide in Ardmore, Oklahoma. The Forzani family had purchased 10-year-old Annies Custom Pistol and were having some difficulties getting in sync with him, and asked Stefano for help. Since he had trained the "Mac" and ridden him in the 2015 NRHA Futurity, he obliged.
Now, Lily comes out to Calcanini Reiners a couple of days a week.
"In her lessons, I can see a little bit on improvements every time. If she struggles with something today and it doesn't look like she gets it, she goes home and thinks about it and I can see the improvement," Stefano said.
According to Lily, Mac is a reliable mount with some "goober" tendencies. The pair are slated to compete in the Youth 13 & Under and Short Stirrup classes later in the week at the NRHA Derby.
"I want to thank my trainer Stefano, my mom and my dad, and everyone who supports me and watches me on the livestream," Lily said.