Showing a homebred horse anywhere is exciting, but showing a homebred horse at an event as prestigious as the 6666 NRHA Derby presented by Markel is an accomplishment in more ways than one. For Manon Fontaine, she is not only showing a homebred horse but a horse bred in her home country of France. Her entry for the 2023 Derby is a 2017 gelding, BHB Wimpys Starlord.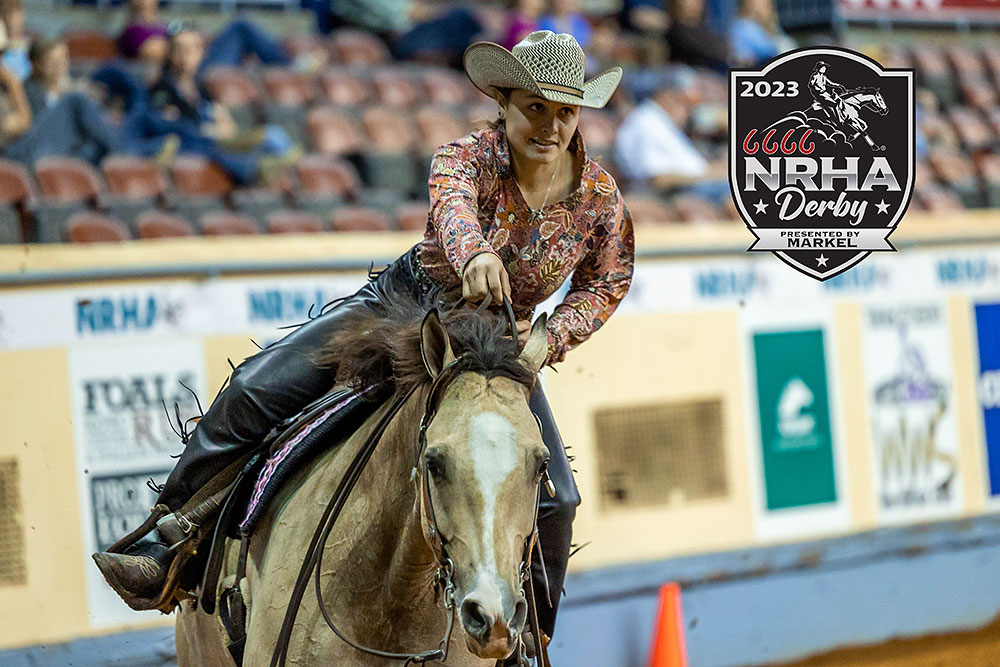 Fontaine says she practically grew up in the saddle. Although she started off in a jumping club, she quickly fell in love with the sport of reining. In the years since, her family built a small breeding program in France. Fontaine and her family have kept the bloodline of her derby horse close, breeding "Starlord," his sire, BHB Mr Wimpys Royal, and his dam, BHB Katberry Stargun.
In 2019, Fontaine and her family made the trip from France to Texas to visit NRHA Professional, Mathieu Buton. Buton was impressed with Manon's abilities and invited her to come to work for him for a few months. She loved the experience and was eager to get back.
It took Fontaine longer than she would have liked to get back to Texas, but she used this time to get Starlord into the show pen in Europe. They had their fair share of success, including wins at the 2020 Italian Reining Horse Association Derby in the Level 4 Open Aged Event and at the 2021 French Futurity & Finale in the Level 2 and Level 4 Non-Pro.
In March of 2022, Fontaine was finally able to return to Texas to continue working for Buton, and Starlord wasn't far behind. Balancing being an assistant and showing her own horse might be challenging for some, but Fontaine and Starlord have a pretty good handle on it.
"I'm pretty lucky that my horse is the way he is, that he's a real nice horse and good-minded," Fontaine explained. "Even if I don't ride him every single day, he will give all he can for me."
Despite her busy schedule as an assistant, Fontaine and Starlord have still managed to have success in the show pen since moving to the States. At the 2022 NRHA Derby, the duo made the Level 1 Open Derby finals. Earlier this year, at the Oklahoma Ride & Slide in Tulsa, they were co-champions in the Level 2 Open Derby.
Fontaine hopes to stay in the States and continue paving her way to having her own training program one day.
"Right now, I'm an assistant, and I really wish to learn a lot. I know I will learn every day, but I do want to have my own business one day. I'd like to stay in the USA and not go back to France," Fontaine shared. "I love the industry here; everyone is so friendly. The shows are so much fun."